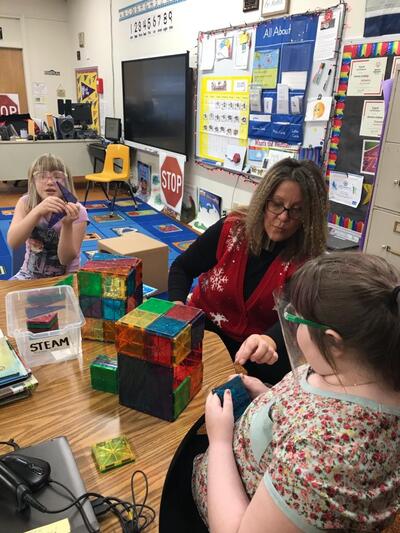 Elementary School Library
Due Dates
For Kindergarten through 2nd Grade, books are due the day before they have library. For example, if they have library on Monday their due date is on Friday. Due dates are stamped or written in the front of the book.

3rd and 4th Grade students are responsible for writing their own due dates in their books. They may also log into their account on the card catalog to check their due dates or to see if books are returned. This may be done at home or on their Chromebook in the classroom.
Fourth Grade Books
These books are only available for 4th-grade students.

Students must have a signed permission note from their parents to check out these books.
Diary of a Wimpy Kid series by Jeff Kinney

Lightning Thief series by Rick Riordan

Scary Stories series

Fablehaven series by Brandon Mull

Goosebumps by R.L. Stine

Harry Potter series by J.K. Rowling

Princess Academy by Shannon Hale

15 Minutes by Steve Young

Flush by Carl Hiaasen

Hoot by Carl Hiaasen

A Tale Dark and Grimm series by Adam Gidwitz

Mr. Terupt Falls Again by Rob Buyea

Snow in Summer by Jane Yolen

Tunnels series by Roderick Gordon

Bravest Princess by E.D. Baker
East Evergreen Library Greeting & Policies
Welcome to the East Elementary Library. Currently, our collection is approximately 10,000 volumes. Students are able to check out books during their regularly scheduled library time as long as they are not past due on previous books.

Please encourage your students to check out books at their reading level and ask them questions about what they have read to determine if they can comprehend the book they are reading.
Expectations
Library expectations