About East Evergreen Elementary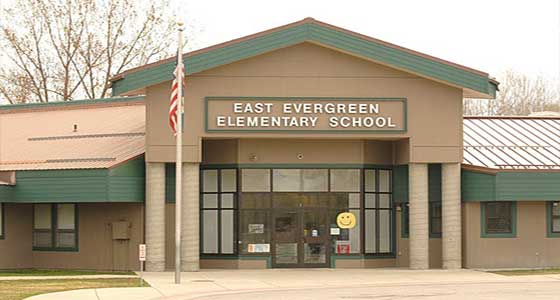 East Evergreen Elementary is located at 535 East Evergreen Drive in Kalispell, Montana. East Evergreen Elementary currently serves approximately 373 students from Preschool through 4th grade. We have a dedicated staff with 32 Certified Teachers, 15 Paraprofessionals, a Mental Health Service support staff member, and a School Health and Community Liaison. All students in the Evergreen School District receive free breakfast and lunch through the Community Eligibility Provision Grant. At East Evergreen, we serve breakfast from 7:45 am to 8:25 am. The Montana Food Bank also provides the opportunity for students to participate in the BackPack Program, ensuring all students have access to food during weekends and holidays.
Our school has various start times for different grade levels, however, our main office is open from 7:45 am until 3:30 pm. Mrs. Bauer and Mrs. Corpron, our office support staff, are able to assist with any school-related questions or facilitate communication with teachers and administration, as needed. If you have a need or concern, please don't hesitate to call the office.
Early Childhood Education**
Start/End times:
Preschool AM class: Tuesday-Friday 8:15 am - 10:45 am
Preschool PM class: Monday-Thursday 12:00 pm - 2:55 pm
Early Kindergarten: 8:25 am – 2:55 pm
**Preschool and Early Kindergarten registration must be pre-approved.
Contact our Special Services Department for more information at 406-751-1111.
Kindergarten - 4th-grade
Start/End Times:
Kindergarten: 8:25 am – 2:55 pm
1st grade: 8:25 am – 3:00 pm
2nd grade: 8:25 am – 3:00 pm
3rd grade: 8:25 am – 3:05 pm
4th grade: 8:10 am – 3:05 pm
To promote a positive school culture, we encourage positive behavior with our K.I.T.S. promise.
At East Evergreen, our students are: Kind and Respectful, Inspirational, Trustworthy, and Safe.
We recognize students with a KITS card for demonstrating these positive behavior traits.