About the Evergreen Crossroads Program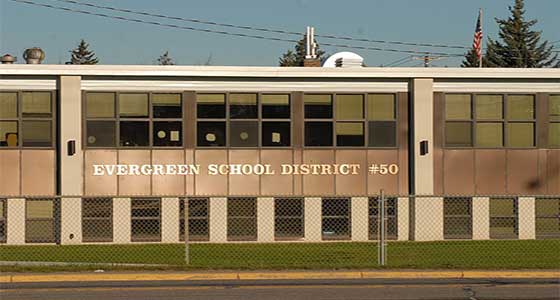 We believe that given partnerships with families and the agencies serving students, intentional learning experiences, and carefully planned interventions to address student needs, we can, over time, facilitate successful school experiences. These successes grow to become the foundation of students' learning to redefine who they are and their personal belief system regarding school and achievement.
With parent partnerships, Evergreen Crossroads students develop from individuals who may be fearful or angry, and embittered by failure and hopelessness, to students who are assertive, believe they can learn, and consistently demonstrate their social and academic skills. This transformation doesn't happen overnight. The work is hard.
The staff at Evergreen Crossroads have witnessed growth in countless students and want to assure parents and guardians that with a shared commitment to ongoing communication and the essential agreement to support each other as caring adults who are all invested in positive outcomes for each student, your child will develop skills that will serve them throughout their lifetime.
Our Program….The Evergreen Crossroads Program is a specialized education program within Evergreen School District #50. Crossroads is tuition-based and open to all member districts in the Flathead Valley. The program is capable of serving up to 46 students from kindergarten through 8th grade. When considered in comparison to the overall student population in the Flathead Valley and nearby school districts, the numbers of students participating in the Crossroads are less than 1% of the overall school population.
Program Design…Students are provided with both a fully accredited academic program and behavior intervention that is designed, over time, to support internalization of skills related to emotional self–regulation. Crossroads utilizes a cognitive behavioral approach to behavior intervention and incorporates a positive behavior recognition system and points which can be exchanged for access to preferred activities. The on-staff serving Evergreen Crossroads includes a Principal, three Behavior Specialists, five Teachers, and five Paraprofessionals resulting in a staffing ratio that is approximately 1 staff to 3.5 students.
How students are identified to participate…Students are referred for participation by the district of residence school's team through an application process. When parent consent is obtained, consultation occurs with the student's current school placement and assigned Crossroads Staff. Following observations, consult, and subsequent meetings to clarify student needs, consider Crossroads placement openings, and carefully plan, an IEP team is reconvened to consider a change of placement as necessary to provide the student with a Free Appropriate Public Education.
2023 - 2024 Evergreen Crossroads Program Advisory Board Members
*(Alternate - Cal Ketchum /Flathead County Superintendent)
2023 - 2024 Advisory Board Meeting Dates and Location
August 17, 2023, 1:00 p.m.

October 26, 2023, 8:30 a.m.

December 15, 2023, 8:30 a.m. *Winter Concert

February 15, 2024, 8:30 a.m.

April 18, 2024, 8:30 a.m.

Optional Meeting: June 13, 2024, 8:30 a.m.
Meeting location: Evergreen School District Boardroom (18 West Evergreen Drive, Kalispell, Montana 59901)